There's so much to see at best waterfront wedding venue with a view near Edgewater New Jersey. Host your once-in-a-lifetime occasion at New Jersey's premier riverfront wedding venue — just steps away from the iconic Hudson River and Manhattan skyline. These world-class locations accommodate weddings of every size and culture, complete with stunning cityscape and river views. What better place to say "I Do" and celebrate along the picturesque Hudson waterfront? Read on and experience the best waterfront wedding venue near Edgewater.
Timeless Luxury
One-of-a-kind wedding venues near Edgewater sport a sense of timeless luxury that has been imitated, but never duplicated. Within a short walking distance of the scenic Hudson River, this hidden waterfront gem evokes an ambiance that every city-chic couple will fall in love with. Host every stage of your unforgettable wedding celebration here – from rehearsal, ceremony, cocktail to reception. Inspired by the Hudson River and Manhattan skyline, Waterside is ready to bring your wedding day vision to reality. Certainly, feel a sense of timeless luxury, elegance, and charm at the best wedding restaurant near NYC.
Modern, Sophisticated, And Distinguished
Waterside welcomes you and your special someone to our modern waterfront wedding venue on the Hudson River. Let us design, coordinate, and customize every aspect of your special day – all beyond even your most creative dreams and vision. We're ready to accommodate the most important day of your life with critically-acclaimed cuisine, abundant reception menus, and awe-evoking amenities. Start planning your wedding in unique and large ballrooms near NYC today. Surely, the best wedding venues in Edgewater are simply so modern, sophisticated, and distinguished.
Unrivaled First Impressions
Set your standards high for first impressions at the best wedding party space near NYC. From the moment you arrive, Waterside stands ready to impress. Guests are greeted by professional, complimentary valet attendants. As they walk inside, eyes are immediately drawn to sparkling chandeliers, upscale furnishings, and lavish details – all with striking views of the glimmering New York City skyline in the backdrop. Indeed, the best wedding locations near Edgewater guarantee unforgettable first impressions.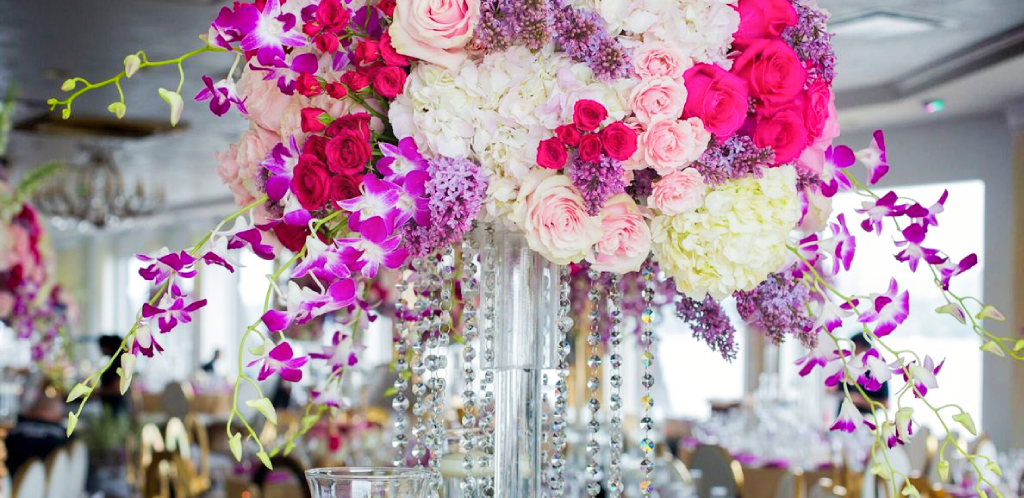 Sophisticated, Versatile Event Spaces
With a number of breathtaking, sophisticated, and versatile event spaces, there's endless possibilities at the best wedding venue with a view on the Hudson River. All of your attendees will truly be amazed by floor-to-ceiling windows, Chivari chairs, and stylish cocktail lounge furniture — all with stunning views of the Manhattan skyline. Gaze outside as NYC skyscraper lights start coming to life and glowing against the river. These modern spaces have been expertly designed to make your dream wedding a reality. Absolutely, see sophisticated, versatile event spaces at the most romantic waterfront wedding venues in NJ.  
City Vibes & Skyline Views
Take in city vibes with dazzling skyline views at the best riverfront wedding venue NJ. Marry your special someone while you take in breathtaking views of the Manhattan cityscape. Nestled on the scenic Hudson River in North Bergen NJ, these unique locations are just miles away from the Big Apple. Host your ceremony, cocktail hour, and reception in a range of romantic spaces — all with unforgettable views of the NYC skyline. Breathtaking skyline views create a magical backdrop for first looks and wedding celebration photoshoots. Absolutely, take in city vibes and skyline views at the best waterfront wedding venues Edgewater New Jersey.
World-Class, Gourmet Cuisine
Treat your guests to world-class, chef-inspired cuisine at the best waterfront wedding venues Hudson County NJ. Top-rated riverfront venues are renowned for their fine cuisine, Mediterranean influences, and exceptional presentation. Ask anybody who\'s had a meal at these incredible seafood restaurants near water NYC. They\'ll tell you all about the fresh ingredients, bold flavors, and mature ambiance. Just one bite of our pan seared tuna, roasted salmon, or savory glazed Pacific black cod will have you rediscover seafood as you\'ve always known it. Surely, enjoy world-class, chef-curated, gourmet cuisine at the best riverfront wedding venues near Edgewater NJ.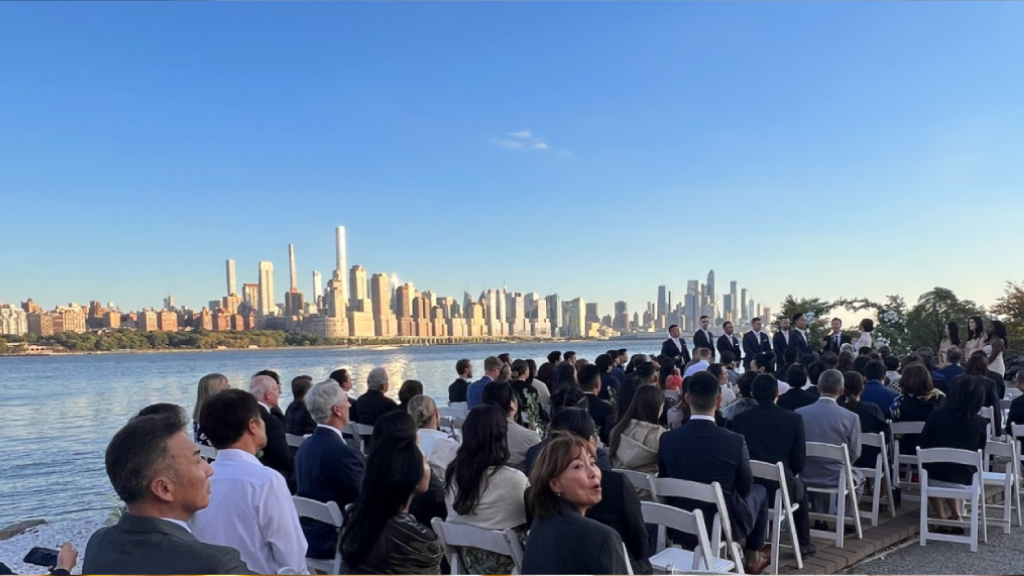 Exclusive Indoor And Outdoor Spaces
Tour breathtaking indoor and outdoor spaces at the most exclusive waterfront wedding venue NJ. With a number of modern, elegant, and versatile spaces — your sure to find somewhere that aligns with your dream vision and personal style. Our Opal Ballroom, Pearl Gallery, and River Room are worthy of hosting any occasion. Host part of your nuptials outside more a more unique, charming, and scenic affair. Sip mixologist-crafted cocktails and enjoy top-shelf champagne as you watch the Manhattan skyline start coming to life. Definitely, host your ceremony in exclusive indoor and outdoor rooms at the best waterfront wedding venue near Edgewater NJ.  
Scenic Riverfront Ceremony Setting
See scenic, picturesque, and captivating locations for your ceremony at the best riverfront wedding venue Edgewater NJ. The charming Hudson River serves as the most romantic, intimate, and captivating backdrop for the moment you say "I Do." Outdoor ceremony spaces are just steps away from the water — as well as the luxurious indoor Diamond and Opal Ballrooms. Exchange your vows at this magical, unforgettable wedding ceremony site. Certainly, get married in scenic outdoor spaces at the best wedding venues near Jersey City.
Sophisticated Modern Luxury
Get that sophisticated, modern, and luxurious feel when getting married at the most beautiful wedding venues North Jersey. Waterside exudes exclusive elegance, lively city vibes, and riverfront vistas – paired with our unparalleled wedding planning and hosting expertise. It's the most magical ambiance and environment for any unique once-in-a-lifetime celebration. Are you ready to transform your dreams into reality? Certainly, indulge in sophisticated, exclusive, and modern luxury at the best wedding venues near the Edgewater Waterfront.
Commitment To Quality
Edgewater's best wedding venues know that every last detail matters on your special day. The commitment to quality, service, excellence, and attention to detail is unsurpassed here. When you host your reception here, we'll do our best to accommodate your every last want, need, and dream. You'll have our experienced team of executive wedding planning consultants by your side. We're here to make even your most out-of-the-box wedding day dreams come true. We won't settle for anything less than the best at the most iconic NJ wedding venues with a view.
Impeccable, Attentive, Professional Service
The best wedding spots near Edgewater NJ are known for their impeccable, attentive, and professional service. At Waterside, our commitment to excellence and quality begins the second you arrive. Throughout your event, we'll ensure that our experienced team is ready to serve your every need. We go above and beyond to make your wedding day as special as possible. Your wedding reception is more than just an event to us. We're dedicated to leaving a long-lasting impression that your guests will never forget. Surely, experience the impeccable, white-glove service at the best wedding venues in North Bergen NJ.
A Space For Every Wedding
No matter your wedding theme, dreams, or vision – the best waterfront venues NJ are just the right fit. Have you always dreamed of a formal black-tie wedding, lavish celebration, or extravagant soiree? Then our luxurious private ballrooms are a perfect match – complete with expansive floor-to-ceiling windows, impressive décor, and breathtaking cityscape views. Or, have you always dreamed of something more modern and contemporary? If that's the case, incorporate the outdoors into your waterfront wedding affair. Get married outside with dramatic skyscraper silhouettes and river views as your background. Indeed, the most scenic waterfront wedding venues on the Hudson have a space for every kind of event.
Start Planning Your Happily Ever After Today!
Life-long happiness begins at your wedding reception near Edgewater NJ. It's never too early to start planning your special day at Waterside. Our experienced wedding consultants are ready to help you start designing a celebration that's as unique and memorable as your own love story. Host your big day at an excusive riverfront wedding venue that effortlessly combines charismatic city vibes with sophisticated modern luxury. With a choice of elegant indoor and outdoor event spaces, Waterside guarantees an unforgettable setting for even the most extravagant wedding celebrations. Start planning your happily ever after at the best wedding locations near Edgewater today.
See everything the best waterfront wedding venue New Jersey has to offer. First, host your special day in sophisticated, versatile event spaces. Take in views of the iconic Manhattan skyline while you make a lifelong promise to your special someone. Also, enjoy world-class gourmet cuisine, Mediterranean influences, and bold flavors. When you select a ballroom, consider a combination of indoor and outdoor spaces. For the moment you say \"I Do\", a scenic riverfront ceremony setting offers an unforgettably magical experience. Follow the points above to experience the best waterfront wedding venue with a view NJ.